The Innuneo live DVD/Blu-ra/CD is temporarily out of stock!

After one year of high-quality filming and audio/video editing, the Innuendo live DVD is finally available! The pack includes both the DVD and the audio CD. You will enjoy the band in an amazing 5.1 surround sound, or simply in stereo, with your home or car system! The pack is sold at our concerts, but if you cannot attend, you can buy it safely with your PayPal™ account, or with any major credit card. Price includes shipping cost via Priority Mail, world-wide! Please select your area and click on "Buy Now". After that, complete the payment and insert your shipping address and you will receive the pack in 10/20 days (depending on your area). Should you have any question, please contact us here.
Also available in limited edition Blu-ray Disc (see below)!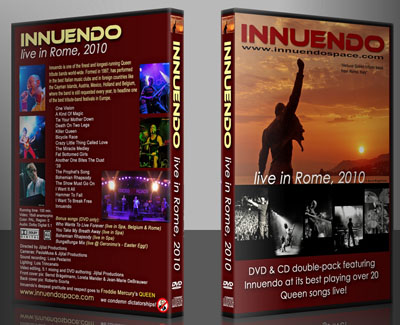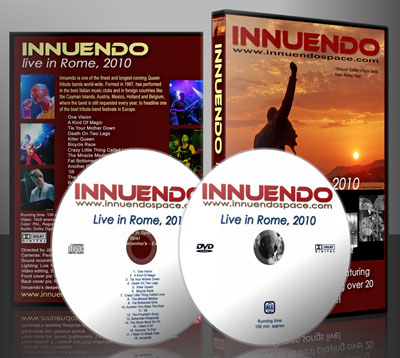 Tracklist: One Vision; A Kind Of Magic; Tie Your Mother Down; Death On Two Legs; Killer Queen; Bicycle Race; Crazy Little Thing Called Love; The Miracle Medley; Fat Bottomed Girls; Another One Bites The Dust; '39; The Prophet's Song; Bohemian Rhapsody; The Show Must Go On; I Want It All; Hammer To Fall; I Want To Break Free; Innuendo. Bonus Videos: Who Wants To Live Forever (live in Spa, Belgium); You Take My Breath Away (live in Spa); Bohemian Rhapsody (live in Spa); plus an Easter Egg!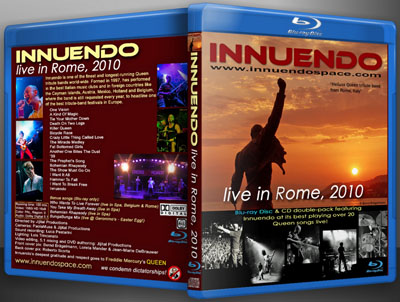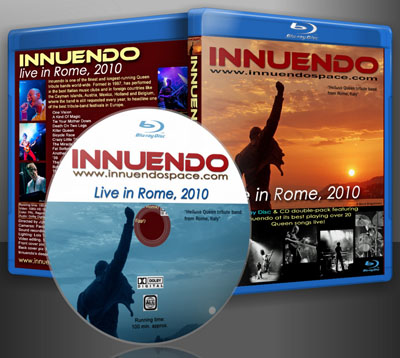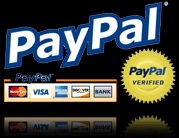 For info, booking, or to contact the band, click here.